Austin, Texas Personal Injury & Criminal Defense Attorney
Here's the hard truth: the system isn't always fair. Sometimes it seems like the only real concern is the bottom line instead of the well-being of the people. That's why you need a brave attorney who won't back down and will fight for you even harder. That attorney is me. With my passion and skills in your corner, you can rest assured your case is in good hands.
Practice Areas
PROVEN EXPERIENCE IN MULTIPLE FACETS OF LAW
---
Allow me to alleviate the stress. I'll take your burdens and place them on my own shoulders.
I'm not the type of attorney who plays games. When it comes to your case, I'll keep you informed about what's going on at all times. Sometimes you may feel a bit anxious or scared. If you have a pressing concern that's keeping you up at night, don't hesitate to give me a call. Part of my job is to make this process as painless as possible. Should we have to go to court, I'll do everything it takes to fight for a favorable resolution to your situation.
Patient, Honest and Helpful
"Before even knowing if I needed an attorney Ms. Melancon and I had many phone calls. She couldn't have been more patient, honest and helpful. I have her in my contacts list on my phone just in case."
Detailed & Thorough
"Ms. Melancon addressed everything I forgot to mention, and was not only proactive, but also attentive to the overall scope of my needs."
A Professional Law Firm
"Ms. Melancon has a true working professional law firm... which shows her true passion and character for her customers."
A Great Service
"Ms. Melancon has been of tremendous service to me in regards to my legal matters."
Highly Recommend
"Her work is precise and serves the purpose that you go to a lawyer for. I would advise anybody to use her."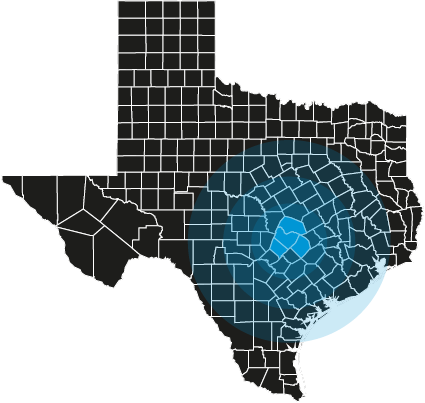 Based in Austin.
Serving Central Texas
Travis County, TX
The heart of the state capital and the fifth most populated county in the state, Travis County is excitingly urban and beautifully Texan.
Williamson County, TX
Just outside of Austin in Georgetown, Williamson County is home to the historic Williamson County Jail.
Hays County, TX
On the Round Rock end of Austin, Hays County boasts of beautiful Texan landscapes and scenery.
Across Austin, TX
All throughout Austin, Texas, no matter which county you're in, if you need expert legal counsel, I'm here to help.
I can help you move forward with your life.
As a personal injury attorney, I see a lot of lives that have been upset by injuries. My clients are often frustrated, in pain, fearful, and hopeless when they come to me. Because I am driven by the desire to make the world a better place, I have no problem fighting hard for my clients best interests.
Having a lot of experience as a criminal defense attorney here in Austin, Texas, I know the advantage "divide and conquer" gives. This strategy allows my client and me to focus on what we need to do in pursuit of the best possible outcome in their case.
For both areas of law I practice, I always offer a free initial consultation. I know that choosing an attorney can be stressful and adding a consultation fee doesn't help. In the consultation, we discuss the details of your case and establish realistic expectations. You can rest assured you will get expert representation from me.
I am proud to serve Austin, Texas and the surrounding areas and give back to my community by helping people change their lives. I want to change the world for the better, and I will do that by providing my legal services and expertise.